Wild Hen Farm moves to the Old Farm Happy Valley
We warmly welcomed these lovely free range hens to their new home today – it was a long slow journey from the original Wild Hen Farm location but not one of these wonderful hens suffered any injury.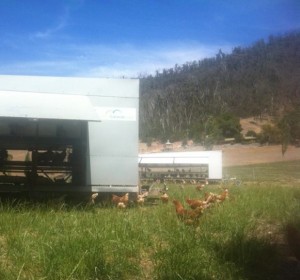 We hooked up their mobile caravans at 1 o'clockin the morning and slowly, slowly, slowly made the journey – it took us many hours to reach The Old Farm Happy Valley – 5 hours of careful driving.
Not a sound could be heard from inside the vans until this morning when we opened the doors.  All these lovely hens ran from their beds and seem happy and delighted with their new residence.
We hope you enjoy their pictures as much as we are enjoying getting to know them.
---
You can buy our eggs from many places – we will update as we expand into new outlets.